Cat Project: Bill & Russ
Notes: Painterly style portrait (12 x 36) . Shown below are 2 proofs, Bill the cat on the left is more realistic and conservative in his coat coloring in proof #2. Proof #1 has blue highlights on the Tabby's coat.
Proof #1
Bright and colorful, #1 is our favorite. Be sure and click image to see detail





Original Cat photos below: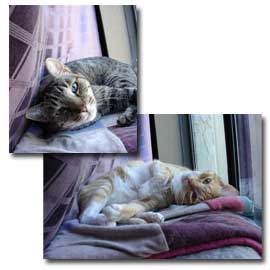 This work of art has been completed. We can immortalize your kitty, too! Visit our pricing guide for more information.