Contact Us:
Art Paw is a home based business, and we can be reached in a variety of ways. Rebecca is always happy to set up personal pet portrait consultations with local Dallas clients by appointment. Sales calls and charity requests should be made to the studio phone line or to the address below. Out of town portrait clients may use our toll-free line for any questions they might have.
11/05/11 Attention: We are experiencing problems with our mail servers at sbcglobal and ask that you use the following e-mail at this time:
artpaw.com@gmail.com

Studio phone: 214-321-1150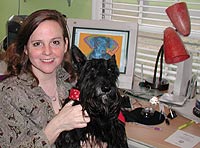 Toll free line: 888-225-4278
Mailing address:
P.O. Box 181085
Dallas, TX. 75218-1085
Find our art in the real world by visiting our
Retail Partners
If you prefer to mail your pet portrait order directly to our home studio address just give us a call and we would be happy to supply you with it. Our studio hours are Monday - Friday 10:00 a.m. - 6:00 p.m. Portrait consultations may also be set in advance for the weekends.