Want to order off-line? We have a form you can print from your web browser here. Or just download our pdf form.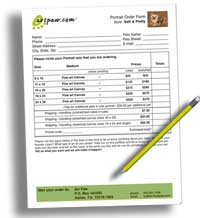 Common Questions on ordering:
What is the difference between Stretched and Rolled canvas?
More than one pet per portrait? Yes ... see "choose your extras" menu above to select additional pet ( $30).
Satisfaction Guarantee? Yes, click here to learn more.

Call us toll-free 888.225.4278
E-mail us at artpaw.com@gmail.com