Boston Terrier Project: Nikki
Nikki is a real doll baby, and she makes us smile. This Boston Terrier's original photo showed her to have a sort of Colombo quality with one eye that sort of wandered off in the wrong direction. We chose not to fix this entirely and instead enhanced the eyes just a tad so that they look as charming and sweet as I'm sure they do in real life.
See original Boston Terrier picture below: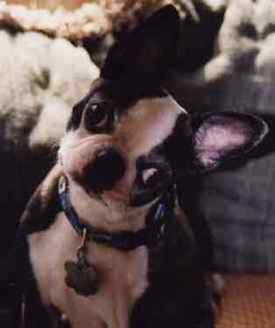 This work of art has been completed. We can immortalize your Boston Terrier, too! See our pricing page for more information.