"How do I redeem my Gift Certificate?" Read details below ...or

Watch our 5 minute video that explains redeeming on-line ...

Art Paw FAQ Gift Certificates from Rebecca Collins on Vimeo.
The fastest way to redeem your Art Paw gift certificate is by going through our regular online ordering process. You will have a chance at the very end to choose "gift certificate" as your payment option and enter your gift certificate code. Simply click on the "order now" link under the portrait style you received, and follow the steps to complete our ordering process. Be careful and do not confuse the "Voucher" or coupon box with the box for your gift certificate number. You will not enter your certificate code until the very end after you have selected "Gift Certificate" as your payment option.
You Can also mail your actual certificate to us in order to redeem:
Mail To:
Art Paw
p.o. box 181085
Dallas TX 75218-1085
You can also email us your gift certificate information (style, size, and code), snapshots, and any questions about the redemption process to artpaw.com@gmail.com.
If you have any questions that you feel would be better addressed over the phone, please call us toll-free at:
888-225-4278.
"How Do I find my Gift Cert Code?"
See the image below for help finding your code. The code below is an example only and your code will be different.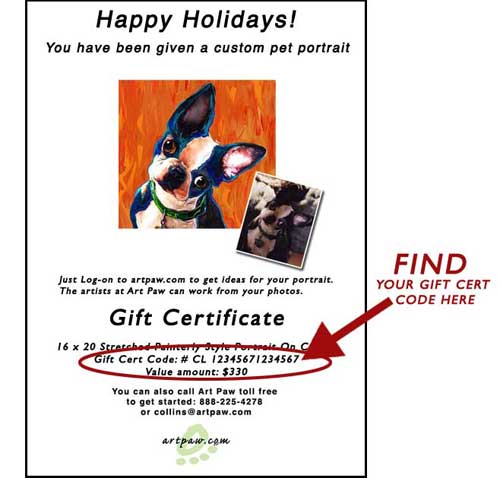 "I received a gift certificate, but I would like to upgrade to a different size or style."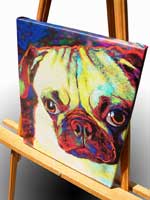 You may apply the monetary value of your gift certificate to any portrait size or style we offer. Please refer to the redemption options above.
If you choose to go through the online ordering process, simply choose the size and style you want, not the one you received with your gift certificate. You may still choose "gift certificate" as your payment option. We will contact you once we receive your order information to collect the remaining balance.
Please do not enter any credit card information, as our shopping cart is not able to deduct the price of your gift certificate, and your card will be charged the full price of the portrait.
"I received a gift certificate, but I lost it, what do I do?"
Well unlike a large commercial merchant we will do our very best to help you, but we will have to track back to the person who ordered it and we will need their e-mail, full name date of purchase and so on. If their name shows up in our payment records we will honor the certificate.
If you run into any problems during the ordering process, please email us at artpaw.com@gmail.com or call us at 888-225-4278.