Rebecca Collins /
Bio:
Rebecca Collins received her BFA from the University of North Texas where she studied fine art and metalsmithing. She currently works in a wide variety of media that includes glass mosaics, drawing, painting and digital arts. Her journey into the world of Pet Portraiture was inspired by her Scottish Terrier puppy Atticus. In 1998 Rebecca founded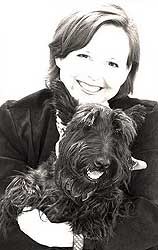 Art Paw studio and began offering her graphic design talents to both high profile clients in the pet industry along with ordinary four legged household pets. Clients always comment on her unique and bold approach to color. Rebecca's work has been seen on The Today Show, NBC News, and in a variety of national magazines such as Animal Fair, Austin Home & Living, DFW DOG, Money Magazine, Washington Post Express, and several others.
Artist Statement:
"My portrait work is highly layered and I work with a stylus and wacom tablet adding hand drawn lines and "paint" drips and splatters. I have always been intrigued by process and building up a work of art with layers, either physical layers when it comes to collage work or digital layers when it comes to my Pet Portraits. Some of my pet portraits will have well over 70 Photoshop layers before I am finished with them. I regard the computer as just another creative tool and I enjoy trying to push the boundaries of what is possible with digital art. I am passionate about color and I have a real fondness for both line and texture. My goal is to create a work of art that is a celebration of love and a lasting tribute to the special bond we all share with our animals".
Commercial Clients:
Neiman Marcus, Great Scotts Magazine, Petropolitan Magazine, Nashville Paw Magazine, The Wall Street Journal Executive Conference, Sergeant's Pet Care Products, PetSmart Charities, Cesar Brand Pet Food, Wellness Pet Food, Pets.com, Jaffurs Wine, Park Cities Pet Sitter.

| (above: Rebecca, Atticus &Nessie 2001) | (above: Rebecca 2008) |
| --- | --- |