Italian Greyhound Project: Sam & Kalie
Notes: Sam and Kalie are two very cool 13 year old Italian Greyhounds. Their human writes " Sampson is the prissiest dog I have ever seen. You can't touch his feet, and he prances everywhere. Kalie is the mother figure. She is so sweet, she is definitely the boss!" Their human commissioned this portrait as a gift for her partner.
Original Below: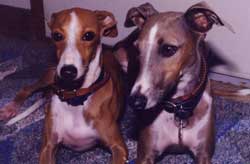 This work of art has been completed. We can immortalize your Italian Greyhound, too! Visit our pricing guide for more information.