Buy One Get One Free!
Order a 34 x 34 painterly portrait of one pet
I will create a 14 x 14 portrait of another pet for free
Sale ends 11/30
*See terms below
This is a great opportunity to order a pet portrait for yourself and we will create another portrait for Mom for free! You just have to decide if she gets the really large one or if you do.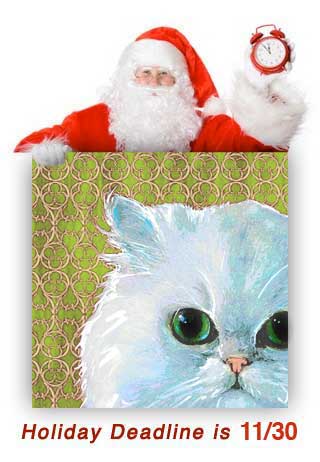 Your photo needs to be a minimum of 500K!


*Sale Terms:
This sale offer can not be combined with other offers and is for the Painterly style only. You must order a 34 x 34 Painterly style portrait on stretched canvas and then e-mail us photos for both projects. Please indicate which photo is for the large portrait and which photo is for the small free portrait. The free 14 x 14 project will not be proofed, so you will need to indicate if you love bold colors or tame colors. We will ship both projects together after you approve the large portrait proof.
• Please note: Offer good for the 34 x 34 painterly stretched size only. Other sizes and styles do not qualify. I want to work on some large projects ... the big canvas prints make a huge statement! The free 14 x 14 is my way of saying thanks for ordering big!
Portraits will take anywhere between 1 to 3 weeks to ship. If you have ordered this size and style in the last 24 months we are very sorry but we can not refund you the difference in cost or send you a free portrait. This is a "holiday sale" and only good for a very limited time.
Follow us on Facebook to get our news on sales and contests.