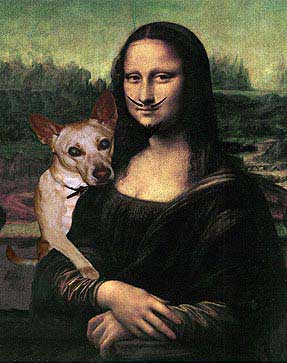 After Marcel Duchamp's - L.H.O.O.Q.: (Literally - "She has a Hot Dog")
(After Leonardo Da Vinci's Mona Lisa )

For years art historians have remarked on the magic of Mona's subtle smile. What many people don't know is that her grin was largely a result of watching the antics of Leonardo's pet dog. The artist finally had to put the little clown outside so as to focus on the portrait. It was too late however, the pup's frisky nature had already become embedded into the overall tone of this famous painting. Now your pet can be placed in this famous painting too. Your Mona Portrait can come with or without the mustache!

"The time will come when men such as I will look on the murder of animals as they now look on the murder of men."

— Leonardo Da Vinci