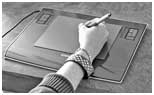 Need a color change? No problem!
(please note: this will increase your delivery time)
Art Paw's number one goal is your satisfaction. We are more than happy to work on any one project for weeks or even months to get things just right for our clients. If necessary, we can rework your art one time free of charge. Additional revisions beyond the first set must be charged a design fee of $75 per hour, with a minimum of one hour. For this reason it is very important that you be very specific about what is needed and that we talk to you by phone about your needed changes. Be aware that sometimes even minor color changes may add up to 3 weeks to a delivery date ( it usually doesn't but it is possible). Actual time needed to rework your art will vary depending on the complexity of your request and the amount of work we have in-house at any given moment. When you call Rebecca ( 888-225-4278) she will discuss with you the estimated time needed to revise any one of the proofs supplied.
Need a color revision really fast?
OK ... just ask for a rush!
To ensure a specific delivery time you may wish to place a rush on your revision. This keeps you at the head of the line! If your project has a very sensitive gift giving deadline and you need color or design tweaks please consider adding a revision rush fee now. Your updates will be created within just 2 business days!
Revision Rush Fee $50
Want us to start over from scratch using a new photo?
Not a problem. There is a design fee to start over from scratch from a different photograph that will range from $30 to $75 depending on which style you ordered. We must charge this as we have already invested several hours in your current artwork.
We Guarantee satisfaction on all orders.
We are able keep our custom prices low because 95% of our clients are satisfied with our work from the start. If for any reason you are not happy with your proof feel free to call Rebecca at 888-225-4278.
To place your project into revisions you MUST CALL Rebecca at 888-225-4278. Please do not e-mail to discuss your needed changes.